So, I (unabashedly) admit that I'm one of the 15% of Super Bowl viewers who watch it exclusively for the commercials. Though I know which teams are playing, I'm a little fuzzy on where they're from.  Lol.  Ignorance is bliss, no?
During a Super Bowl Party, while some are glued to the game, I'm usually found socializing or stuffing my face like there's no tomorrow (hey, life is short).   Don't worry, I do come up for air during commercials though.
Speaking of food, it's not a Super Bowl party without food.  Oh, food, glorious food!  But, Super Bowl parties should be fun, for both the guests and the host.  So, don't slave away in the kitchen to make your guests happy.  Here are a list of easy party food ideas for your Super Bowl Party:
Super Bowl Finger Food Ideas
1.  Pigs in a Blanket Recipe – this is probably the easiest, cheapest, and fastest thing to make.  Yum.
2.  Seven Layer Dip Recipe – Oh. em. gee.  Whoever invented the 7 layer dip should win a Nobel Food Prize (if Nobel Prizes were awarded for food).
3.  Chicken Buffalo Dip Recipe – makes these because your guest will love you for it.  They are always a hit when I make them.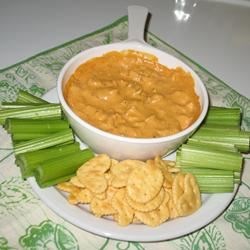 Chicken Buffalo Dip
5.  Spinach Dip Recipe – I love dips, especially this easy one.  Perfect with tortilla chips, bread, or crackers.
6.  Hamburger Sliders Recipe - you can make it pretty basic or dress it up and make the sliders fancier.
7.  BBQ Deviled Eggs Recipe - if I wasn't worried about high cholesterol, I'd eat a plate of these.
8.  Easy Chilli Recipe- perfect for this frigid weather.
Super Bowl Dessert - no meal is complete without something sweet
1.  Peanut Butter Cup Cookies Recipe – these are really fun to make, and a sneaky way to enlist the help of your kids, nieces or nephews.